NSMQ 2023 Today: Day One Fixtures of the One-Eighth Stage.
The Preliminary Stage of the competition concluded successfully on Monday, October 9th, 2023, taking place across three different venues: Kumapley Auditorium, Saarah-Mensah Auditorium, and the KNUST SHS Auditorium. These venues were witnesses to intense excitement, perseverance, support, and healthy academic rivalries as schools competed for a highly sought-after spot in the eagerly anticipated One-eighth Stage of the NSMQ 2023.
The One-eighth Stage is all set to commence tomorrow, October 11th, 2023, at the same venues within KNUST. This stage brings an exciting twist as 30 seeded schools join the competition. Every school aspires to secure a seed, even if they don't ultimately win the trophy. To earn a seed, schools must battle their way to the Quarter-final Stage, ensuring an automatic seed. This means that a school granted an automatic seed will skip the Regional Qualifiers and Prelims, starting their journey directly from the One-eighth Stage.
Read On: NSMQ 2023 One-Eighth Stage Contests
Originally, the number of seeded schools would have been 27, representing the schools that advanced to the Quarter-finals Stage. However, to elevate the intensity and competitiveness of the Regional Championships, Regional Champions who were not already seeded have been granted an automatic seed as a recognition of their dedication and hard work during the Regional Championships.
Keep an eye out for the formidable contenders in the upcoming NSMQ 2023 One-Eighth Stage.
Suggested:
How to Get Fully Funded Scholarship to the USA As An International Student
What You Need To Know About Study In France
Below are the Day One Fixtures of the One-Eighth Stage of NSMQ 2023.
SAARAH-MENSAH AUDITORIUM
Contest 1: Ghanata SHS vs Wesley Girls' High School vs Archbishop Porter Girls' SHS
Contest 4: Osei Kyeretwie SHS vs St. Joseph Seminary SHS vs Notre Dame Girls' SHS
Contest 7: Swedru Sec School vs Wesley Grammar School vs Tema Methodist SHS
KNUST SHS AUDITORIUM
Contest 2: Ghana National College vs Mpraeso SHS vs Aggrey Memorial Zion SHS
Contest 5: Kumasi High School vs Anlo SHS vs Okuapeman SHS
Contest 8: Adventist SHS vs Anglican SHS vs St. Charles Minor Seminary
KUMAPLEY
Contest 3: Bishop Herman College vs Adidome SHS vs OLA SHS, Ho
Contest 6: Assin State College vs Achimota School vs Holy Child School
Contest 9: Adisadel College vs St. Louis SHS vs Abuakwah State College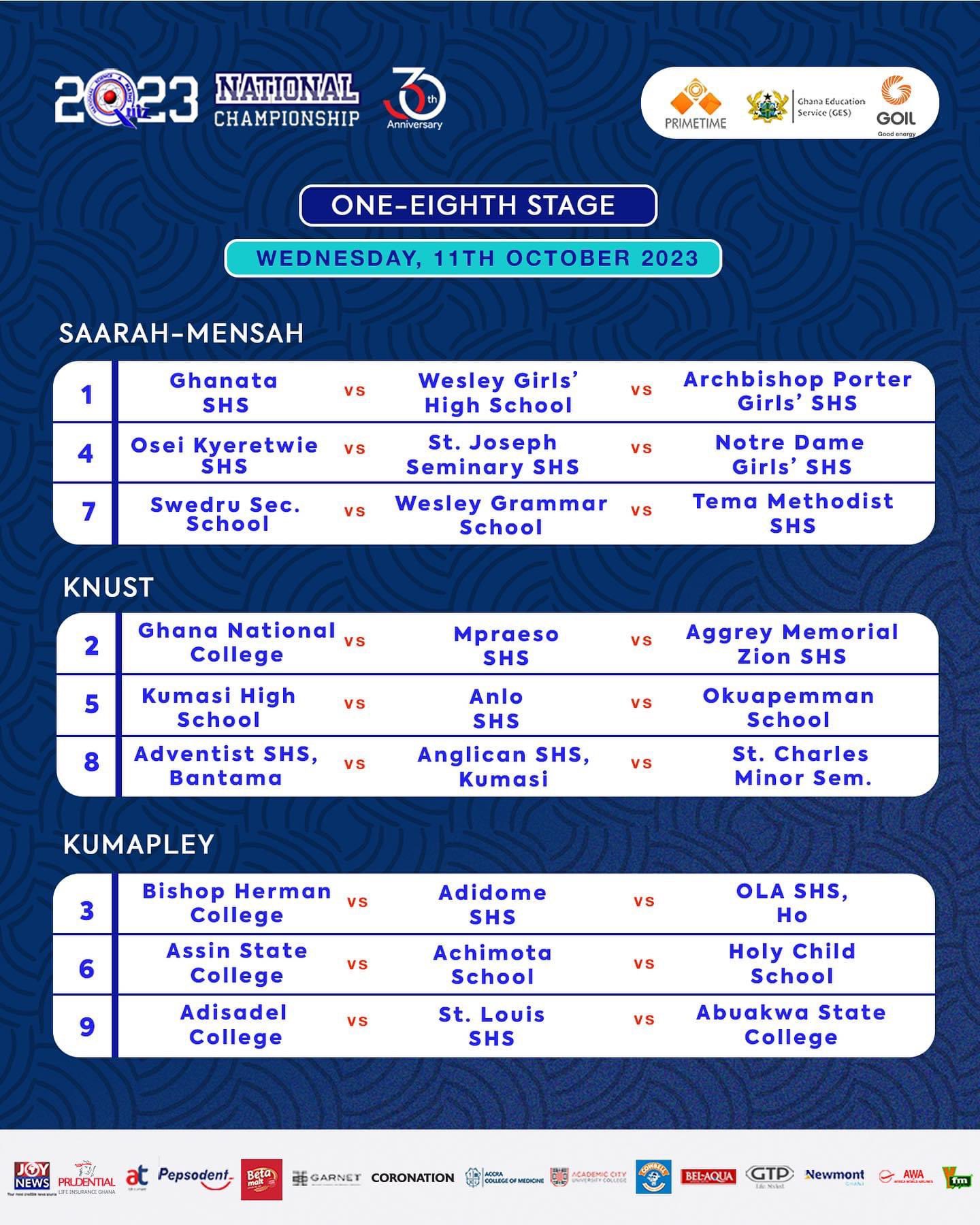 The stakes are getting higher! All is set for the start of the one-eighth stage contests tomorrow! Let us know your predictions in the comments.
Follow us on social media
Job & Scholarship Alert
Get daily Job and Scholarship updates on Whatsapp, Join Our WhatsApp Group via the link above.
NOTE: PLEASE IF YOU'RE ON ANY OF OUR WHATSAPP GROUPS, DON'T JOIN THIS ONE